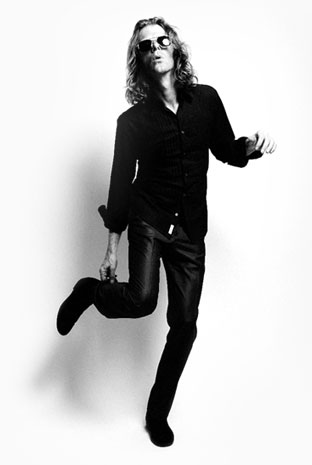 Radio Stations all over the world can now
download the artists latest tracks for FREE.
Click here to go to the artists Air Play Direct site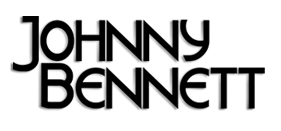 "This is 'not' The Johnny Bennett Band, or The Johnny Bennett Wranglers. This is Johnny Bennett. I've been trying to think of someone to compare his to, but you know what?  I can't think of anyone. He's a Johnny Bennett and that's good enough for me." 
- Pop Syndicate 
"Bennett creates a sound reminiscent of the tight, punchy music on John Lennon's Plastic Ono Band solo album. Tight, punchy, intelligent, well-played pop/rock with all of the fat cut off. Open the door, turn on the red light, listen, and enjoy." 
- Bert Saraco  
"I said now come on over here, make up your mind." I have my mind made up – this is fun, and worth savoring. With his best Jagger impression, the narrator says "I'm crashing everything, I can't believe I'm still alive" 
- Eartaste
"Bennett rises way above the world of commercial crapola and creates an album that's equal parts Saturday night party and Sunday morning coming down. With elements of The Band, Chris Issak and Wilco." 
- Royal Flush
"A balanced blend of guitar, rock overtones, poignant lyrics and an uplifting, positive vibe makes this an artist that everyone can enjoy." 
- SoCal Rocks Magazine 
"Musicians like Johnny Bennett are the heart and soul of the Los Angeles scene." 
- Music Connection
"Yes, you'll recognize plenty of your own thoughts and feelings in Bennett's work. And without fail, you'll find fragments of these songs whirling through your head as you go about your everyday business- because so much in his songs is just what you've been thinking all along." 
- Jack Bailey 
"Musicians like Johnny Bennett and his fine band are far too good for anything I ever knew now loosely described as the Los Angeles Music Scene. Every note is skillfully played while letting John's lyrics and voice stay in the front where they belong. This IS some well-written, expertly produced and arranged acoustic pop and rock." 
- Stacey Board
"Very transparent sounding and repeat-worthy, the background fills in well around his voice. No fillers either, just solid throughout. Do yourself a favor and check this out. 9 of 10 clicks"
- The Canny Shark
"Johnny plays laid-back blues with style and emotion. My favorite tunes are when the band gets a bit upbeat like on "World on Fire" and "You Will Begin" when he channels a bit of the early days of rock n roll like Jerry Lee Lewis, Chuck Berry or more contemporary artists like Reverend Horton Heat."
- Grog Mutant, The Chicken Fish Speaks
"It is a rather unassuming album that it takes a while to figure out, but which turns out to grow with each listening. Johnny Bennett appears therefore to be a very pleasant acquaintance that is well worth it and keep an eye on him in the future. "
- Roger Person, MAGNIFIK MUSIK
" "One Night Bag" and "Lights in the Drive" are as lyrical and searing as anything from Nick Drake's Pink Moon and Five Leaves Left. The Violet Hush ends with the perky little swing number "You Will Begin," which comes like a lemon sorbet to close out a robust buffet of complementary dishes."
- Lyn Dunagan, CAUGHT IN THE CAROUSEL
"There are a couple acoustic gems and the album overall flows smoothly and it's simplicity and traditional influences make it an easy album to get to know."
- Jonathan Goller, Comfort Comes
"Johnny Bennett is well equipped to draw on varied walks of life, adding a precious depth and quality to his work."
- Female First
"It is difficult to pigeon hole Johnny Bennett's music but then is it really necessary to do that? There is certainly an eclectic mix on The Violet Hush, and a few tracks here that could be good for dancing. Variety is the spice of life, they say…"
- Linedancer
"Acoustic Sex Rock! The Violet Hush has a more subdued, Nick Drake tone that's peppered with both beer-drinkers and hellraisers to round out this journey to the bad side of town. Oh Johnny Bennett you inglourious bastard, you've soothed my soul once again! I need a bubble bath. 4 out of 5 Stars"
- Royal Flush
"Bennett's sincerity and warmth spill out genuinely in lyrics I'm guessing most folks will relate to. The sound? Feels like all Johnny Bennett."
- Luxury Wafers
"Bennett succeeds in all aspects of The Violet Hush, never having too many ideas in one place. In a time where career longevity is uncertain Bennett has the chance to beat the odds. Here's hoping he makes a handful of genre diverse albums, especially on the jazzy side."
- Bootleg
"But even more impressive still is that they can go effortlessly from the foot stompin' fist pumpin' "World on Fire" to beautiful meaningful ballads like "Sailboat" & "Why Are You So Happy?" Very Radiohead. "
- NY Waste
"Hell mend them if they can't take pleasure in such a delightful musical journey and it's been beautifully produced by Duane Lundy, who should get plenty of work off the back of this. The ten songs flash by in half an hour, and I defy you not to hit the repeat button instantly."
- ZEITGEIST
"Listen again and you'll be in, caught-up, hooked and ready to go! 'The Violet Hush' by Johnny Bennett is a classy and compelling piece of mid-ground rock of the highest calibre and with the potential to be a monster! "
- Toxic Pete
"Johnny Bennett The Violet Hush —Cat Stevens singing pop-rock tunes would sound like this."
- Jeff Hahne, Creative Loafing
"The Violet Hush has a solid foundation that aficionados of indy music are seeking."
- L. Anne Carrington, Indie Music Stop
"He also has a way of feasting with panthers while alternately breathing fire or lamenting the way of things."
- Folk and Music Exchange
"He has produced a previous album and a group of EP's and singles but is, as yet, not well known in the UK. This album may change that. Songs like "Done with it" and the wistful single "Sailboat" demonstrate neatly the range of his delivery. A name to watch, could be the next David Gray. "
- RB, ROCK N' REEL MAGAZINE REVIEW
"Johnny Bennett's sly, sassy croon is unfailingly infectious, a brash combination of Paul Simon and Joe Jackson with a perky pop execution."
"Johnny Bennett rocks and "The Violet Hush" is a quality bit of singer-songwriter
kit. Muscular, gonad-goading, slickly tricky rock-pop monsters like "Sister
Pharmaceutical" come screaming out of the traps like Jason Morphew on a diet of
Dr Feelgood…"
- Unpeeled


"The two axe-slingers stole the show, mixing acoustic alternative rock with electric
sleaze. Sister Pharmaceutical was raw and blistering"
- Joe Geesin, Live Review, Record Collector
"The strongest track on the album – Sister Pharmaceutical is loaded with crashing
guitars and red Indian tom-tom style drumming with Johnny Bennett singing a tale
of dependency in his best John Fogerty mode…"
- Maverick
"Johnny Bennett is very much the future of bluesy singer-songwriter indie rock…"